Celebration ceremony of the Climate Exhibition 2022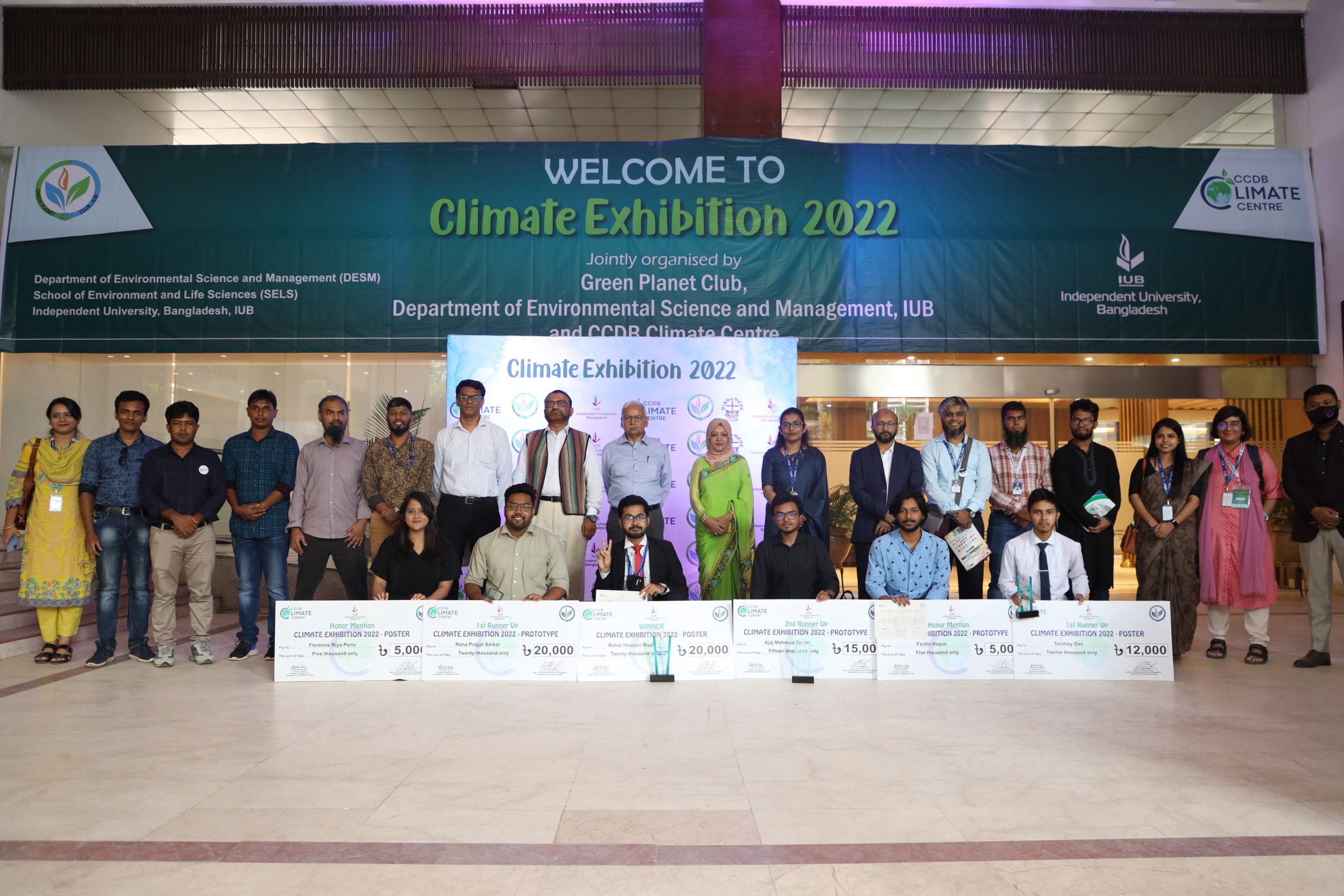 On the occasion of celebrating World Environment Day 2022, the Christian Commission for Development in Bangladesh (CCDB), CCDB Climate Centre and Green Planet Club of the Independent University Bangladesh (IUB) jointly organized a competition – 'Climate Exhibition 2022'.
The award giving ceremony of the exhibition was held on 30th July, 2022 (from 2.00-3.45 PM) at the Auditorium of Independent University Bangladesh (IUB).
Professor Dr. Saleemul Haque, the Director of the International Centre for Climate Change & Development, Ms Juliate Keya Malakar, Executive Director of CCDB, Professor Niaz Ahmed Khan, Pro Vice Chancellor, Professor Shah M Faruque, Dean and Dr. K Ayaz Rabbani of IUB were present on the ceremony.
Dean Professor Shah M Faruque said about the impact of climate change on the world. He also expressed the importance of collaboration between academics, practioners and policymakers to tackle the current adverse effects of climate change.
Ms Juliate Keya Malakar in her speech congratulated the winners and participants. She said that listening and seeing from the younger generation how they want to act to protect the world from climate change inspires her. Together the young generation and CCDB can explore, improvise and innovate ideas. CCDB will not teach rather the young generation will share their ideas.
Professor Dr Saleemul Haque, the Director of the International Centre for Climate Change & Development also stated the role of young people to fight the climate change problem. He said that the older generation created the problem and now they are dumping it on the younger generation. The youth of today has to create and innovate solutions to tackle climate change. Think out of the box. Make solutions that are not only applicable in our country but applicable to the whole world. He urged to make Bangladesh not the most vulnerable but the most resilient country in the world.
The president of the Green Planet Club of IUB Raeesa Nawshin stated the activities of the club.
The competition was on developing posters and prototype models on climate change. 360 students from various universities participated in the competition by submitting their ideas. Winners received prize money of total 1,00,000 BDT and their idea will be demonstrated and further scaled up at CCDB Climate Centre at Gazipur that would be opened on 1st October 2022. The audience also enjoyed a spectacular performance by a band of the varsity.